Welcome to the serious trout angler's paradise.
The West Coast is a pristine environment of rugged mountains, evergreen forests and the most magic rivers on earth. Home to the Healthiest Wild Brown Trout in the World.
Come Fly Fishing with Bryan Wilson.
Bryan Wilson is a native 'West Coaster' and an accomplished and experienced bushman. Much of his life has been spent hunting the forests and fishing the streams that surround his hometown of Reefton and neighbouring districts.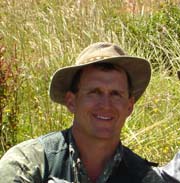 He has spent time as a helicopter hunter, saw-miller and coal miner, but since 1997 Bryan has consistently developed his guided trout fishing business and has now assisted anglers from all over the world to share in the adventure, excitement and achievement of tackling the fantastic fishing available on his doorstep.
An ardent fly fisherman himself, Bryan Wilson's expertise and experience is your key to finding the best angling opportunities in this very special part of New Zealand's South Island. Bryan is a member of the New Zealand Professional Fishing Guides Association.